Management of Primary Headaches in Pregnancy
Draft Key Questions
What are the harms or comparative harms of treatments for migraine or other headaches during pregnancy?
What are the harms comparative harms of interventions to prevent migraine during pregnancy?
What is the effectiveness or comparative effectiveness of treatment for migraine for women during pregnancy?
What is the effectiveness or comparative effectiveness of interventions to prevent migraines for women during pregnancy?
Contextual question: What is the effectiveness (comparative effectiveness) of interventions to prevent or treat migraines in the general population
Draft Analytic Framework
Figure 1. Draft Analytic Framework for Headache in Pregnancy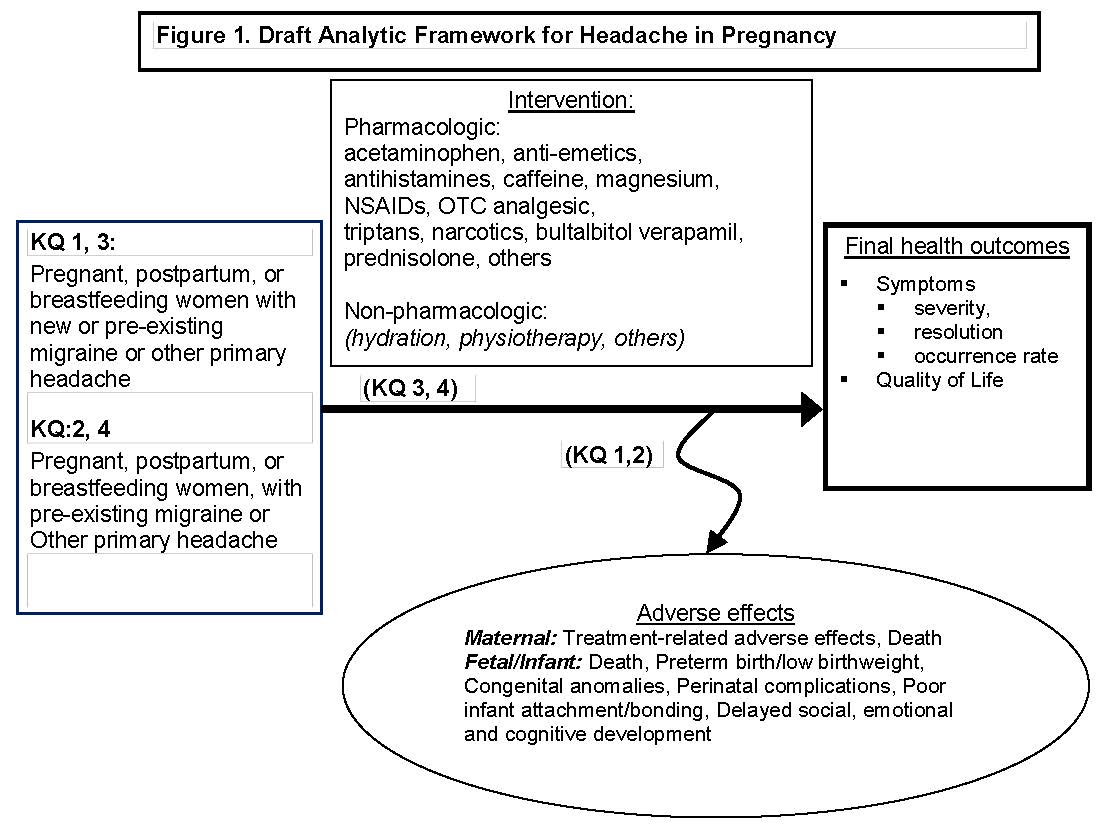 Background
When a pregnant patient presents with a headache, the clinician must first distinguish between a primary headache (when pain is the disease) from a secondary headache (when pain is a symptom of another disease). The decisional dilemma revolves around how to make this distinction so as to begin therapy that is not only effective but also safe for the mother and developing baby.1 Primary headache disorders are classified as migraines (acute, chronic), tension headaches or cluster headaches. Secondary headaches may arise from pre-eclampsia/eclampsia, changes in hormones, hydration, and sleep patterns or later during the postpartum period from anesthesia (post-dural puncture headache). In any woman, serious secondary causes of headache can include neurologic emergencies such as intracranial hemorrhage, cerebral venous thrombosis, and pituitary apoplexy.
Primary headaches are common in pregnancy. In US and international studies, 12–29% of pregnant women met migraine diagnostic criteria, and another 10–16% reported non-migraine headaches.2,3 Although most headaches during pregnancy are not life-threatening, they exact a toll on quality of life and maternal-child bonding.1
There is a notable lack of current guidance on managing primary headaches in pregnancy. The American College of Obstetricians and Gynecologists (ACOG) has not previously published any committee opinions or practice bulletins for any headache topics, and are eager to remedy this gap. The AAP/ACOG publication "Guidelines for Perinatal Care. 2017" mentions headache as a complication of infection, pre-eclampsia, and neuroaxial anesthesia, but does not mention diagnosis, prevention or treatment of primary headaches.4 The American Headache Society has not published any guidance for pregnant women. Three recent American Headache Society guidelines based on their own reviews do not mention pregnant women: migraine prophylaxis in 2015,5 pharmacologic treatment of acute migraine in the emergency department in 2016,6 and treatment of cluster headache.7
There are two significant clinical decisional dilemmas: first, clinicians need guidance on how to quickly and accurately diagnose whether a headache is due to a serious etiology, while weighing the risks and benefits of available imaging and diagnostic tests in pregnancy. Although such guidance is lacking, the lack of primary literature makes this task impossible at present. Practitioners will have to rely on non-systematic reviews and expert opinion.1,8-10
Secondly, clinicians need guidance on the relative benefits and harms of treatment options for primary headaches to improve the quality of life for pregnant women while minimizing risk of adverse effects for her and the baby.
Without current guidance for how to treat headaches in pregnancy, practitioners may generalize evidence on treatment or prevention for headache from the general population and apply it to pregnant populations. However, harms of interventions in pregnancy may be different from the general population, therefore the first two questions (KQ 1 and 2) focus on the harms of interventions for treatment and prevention. In searching for harms, the exposure to the medication is more important than the type of headache that needed treatment, and the therapies for migraine and other headache types overlap.
Additionally, practitioners need to balance benefits and harms. While we included KQ3 and KQ4, we recognize that there may little high quality evidence of effectiveness of treatments (KQ3) or prevention (KQ4) of headaches in pregnancy. Therefore, we also included a contextual question about effectiveness and comparative effectiveness in the general population so that practitioners and guideline developers can use this review to help in decision-making.
PICOTS
Key Questions

KQ1, KQ3: treatment

KQ2, KQ4: prevention

Population

KQ1, KQ3:

Pregnant, postpartum, or breastfeeding women with new or pre-existing:

Migraine
Other primary headache

KQ2, KQ4:

Pregnant, postpartum, or breastfeeding women with prior history of

Migraine
Other primary headache

Interventions

KQ1, KQ3:

Pharmacologic

acetaminophen, anti-emetics, antihistamines, caffeine, magnesium, NSAIDs, OTC analgesic,
triptans, narcotics, bultalbitol

Non-pharmacologic (hydration, physiotherapy, others)

KQ2, KQ4:

Pharmacologic

verapamil, prednisolone
others

Non-pharmacologic (hydration, physiotherapy, others)

Comparators

Other treatment, placebo, No intervention

Other treatment, placebo, No intervention

Outcomes

Symptom severity, Resolution

Maternal Adverse events

Fetal/Infant

Death
Preterm birth/low birthweight
Congenital anomalies
Perinatal complications (low APGAR, withdrawal, respiratory distress, NICU time)
Poor infant attachment/bonding
Delayed social, emotional and cognitive development

Occurrence rate/frequency, Symptom severity

Maternal Adverse events

Fetal/Infant

Death
Preterm birth/low birthweight
Congenital anomalies
Perinatal complications (low APGAR, withdrawal, respiratory distress, NICU time)
Poor infant attachment/bonding
Delayed social, emotional and cognitive development

Timing

Any

Any

Setting

Any

Any
References